It's been a while since I eye on cooking under vacuum at low temperature. It is a technique that is found in many recipes because it is perhaps the most cooking that respects the product and even improves its quality to some extent.
Last weekend I tasted my first meat cooked at low temperature in a restaurant. A piece of veal fillet of exceptionally tender, never eaten like this, cooked several hours at 55 ° C under vacuum in a water bath.
I hesitated, but it convinced me!!!
Some technical
Where to start?
There are two types of devices for evacuating the outer suction machines and chamber machines.
The machines bell are those that equip professionals because it allows a very high vacuum, setting liquids vacuum, the use of cheap plastic bags, but among the faults, for the particular, there is the very high price. And even if the price was not an obstacle such materials are imposing and heavy, they will not fall in a closet after use!!!
The machines external suction is against much less bulky, lighter and cheaper. In return they are less efficient, the vacuum is less extensive, and they should be frozen liquids and strong moist products before putting them under vacuum. It is also mandatory to use embossed bags more expensive than plain bags.
But overall, unless you make more than a dozen vacuumed daily, buying a family suction machine confine most of us and this type of material I choose.
The choice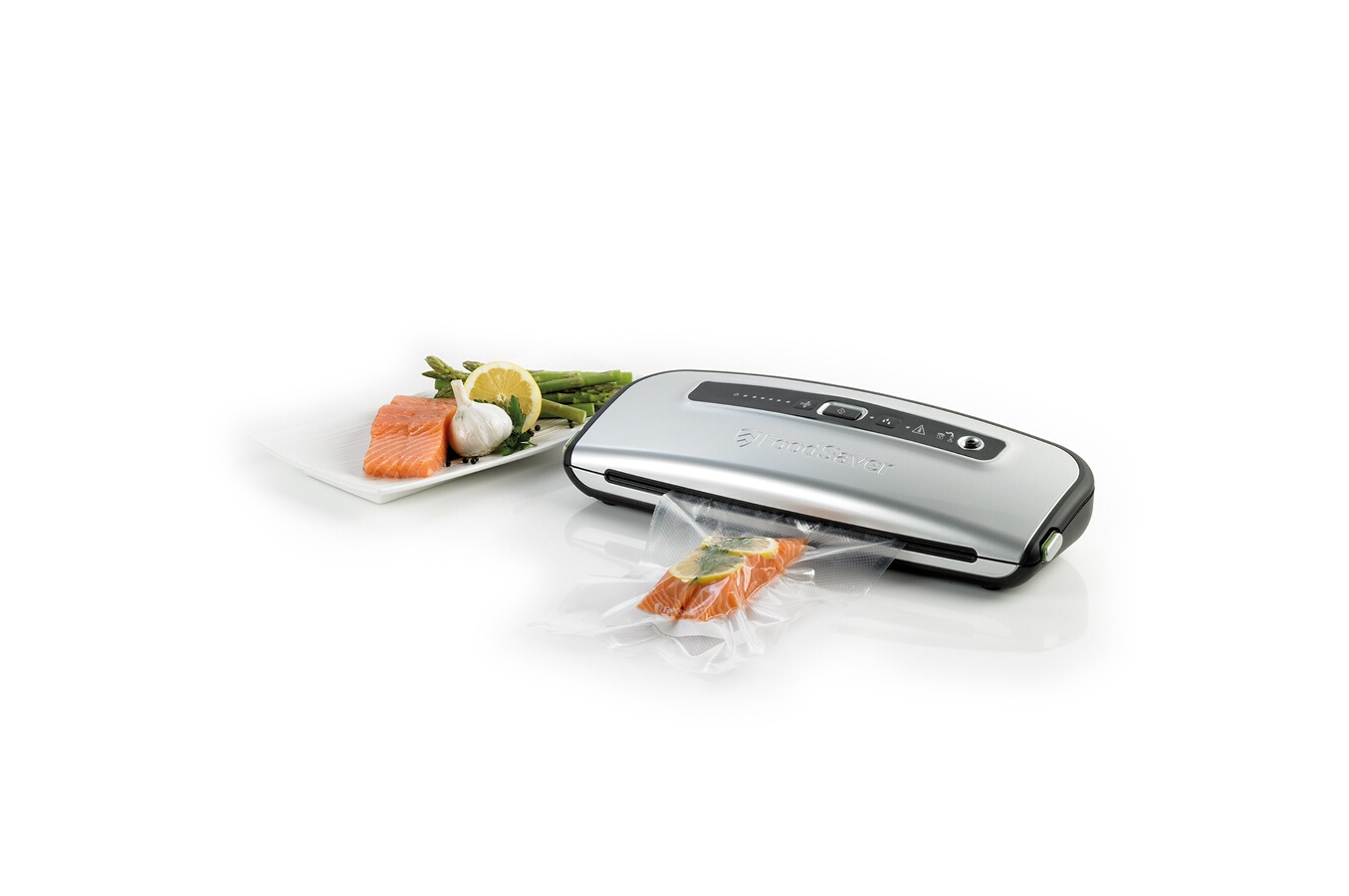 In this market, there are all less than 30 € more than 200 € for certain professional boundary machines.
Looking on the internet, I came across demonstration videos of the FoodSaver brand, a brand that seems well known in the USA, obviously with a good reputation for quality and reliability.
Three models are from 85 € to 160 €. The differences lie in the possibility of manual adjustment of vacuum and particularly on the model Food Saver v4880 on which we can control the power vacuum. This model is cumbersome, but the roll of bags can stay inside, and it can be stored in the vertical. This is the model that I chose. Click here for the full foodsaver v4880 review.
I forgot to mention that the vacuum is not only for slow cooking purpose but also improving food preservation, especially when oneself frozen.
Often your frozen products make water which crystallizes on the surface, they dry, take not terrible and ultimately smells good to throw away. With the FoodSaver vacuum Announces Conservation 2 to 3 years for frozen houses.
For wet products such as fish, it is advisable to freeze the product quickly before putting it under vacuum to prevent the liquid from being sucked by the pump and destroy it forever. There is good security in the FoodSaver with a groove that holds the liquid and crumbs before they pass through the pump, but I do not amuse me to test the effectiveness of the device!!!
The bags
For bags, it is mandatory to use embossed bags that cost a bit more expensive than smooth bags.
The roller supplied as standard can already do some evacuated and then contrary to what one might believe it is cheaper to buy ready-made bags that roll, it's almost 2x less!
I made my first test of low temperature cooking with a piece of pork tenderloin, evacuated, and then baked for 4 hours in a steam oven at 70 ° C. Since I did not yet control this type of cooking I assured the blow by sticking a probe in the heart of the net, through the plastic. The bag remained well sealed despite the hole, and I think that the rest as we do not touch the probe.
I pulled my bag from the oven when the temperature was at heart at 63 ° C at least 30 minutes. I did return the fillets to a hot pan with just olive oil net time to form a colored crust to taste through the Maillard reaction. And all comes fine!
Beautiful pinkish color and flexibility are suggesting exceptionally tender. In the mouth, it is a rediscovery of pork. Fondant, a pinch of salt simply is outstanding, after that it will be difficult to eat pork cooked this way differently !!!