Generally, there are two types of embroidery machines with almost the same functionality. There is the embroidery machine whose task is only to do embroidery and then the embroidery sewing machine which is versatile. It can do both embroidery and sewing. These machines decorate and add unique styles to fabrics. There are many brands of these machines and they come in different sizes.
If you want to purchase an embroidery machine, you need to keep in mind that they come in different prices. Embroidery sewing machines are quiet expensive more than the embroidery-only machines. Prices of these machines mainly depend on the size of the machines itself and also the size of embroidery. They range from $200 to about $8000 dollars.
It is important to also consider the functionality of the machine. If you want to take home an embroidery machine, ask yourself what you want to do with it. If you are specifically oriented in embroidery work alone, then opt for the embroidery only machine. However, if you want an all-in-one machine that will give you the privilege of sewing and also adding embroidery on the fabric, then an embroidery sewing machine will be the best option.
Embroidery sewing machines usually have hoops. During embroidery the fabric is attached to the hoops that are connected to the sewing machines. These hoops hold the fabric firmly to prevent any movements until the machine finishes crafting the desired design. On the other hand, embroidery only machines lack a tool to hold the fabric. Instead, they are fitted with stabilizers.  Some of these stabilizers are found on top of the fabric, while others are found under the fabric. Heat away stabilizers are usually recommended because they leave no trace when ironed.
Some of the embroidery sewing machines are fitted with stitch regulators which enhances more stitches for the sewers who prefer the free motion embroidery.
In the market today, there are three main types of embroidery machines namely;
Mechanical embroidery sewing machines
Electronic embroidery sewing machines
Computerised embroidery sewing machines
All these three machines have their benefits. Let us take a look and compare these different categories of embroidery sewing machines;
Mechanical Embroidery Sewing Machine
This is the simplest style of embroidery sewing machines. They were invented almost 200 years ago and are still used up to date. They were manually controlled by a rotary wheel.  The most common brands still on the market are Brother and Singer. A number of people still prefer to use these embroidery sewing machines.
These machines are not so easy to work with. You need to have a mastery of high skills in embroidery. These embroidery sewing machines have a few numbers of stitches. One of the major advantages is that there quiet cheap as compared to the others. So if you are facing financial constraints, this will be your best alternative. These embroidery machines come in handy when creating antiques and vintage pieces.
Electronic Embroidery Sewing Machine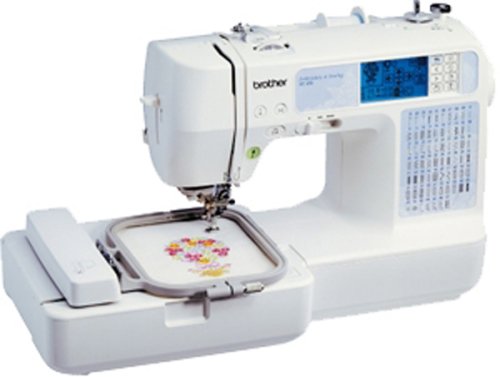 This machine is more popular than the mechanical one. Quiet a number of people who practice embroidery prefer using electronic embroidery sewing machine because it is easier to operate. They are lighter, convenient and easy to carry. An added advantage is that they have more stitches than the mechanical ones and also have a number of more accessories.
This machine widens the scope of your creativity because it is easy to manipulate. Hence, it allows you to be more creative and come up with extra designs. Available models include Brother, Singer, Viking and Kenmore.
Computerized Embroidery Sewing Machines
In the modern era, technology has evolved a great deal. It has made these machines very easy to use. They use a very advanced form of technology to function. You can easily make a complex design that would have taken days to craft using hands in a matter of minutes. These embroidery machines are very expensive but they render services that are worth your money.
Their automatic functions include;
Needle threading
Mirror imaging
Touch display screens
Multiple needle positions
Very many stitch functions
Autopilot features
It also has added features like USB ports and allows internet connection where you can download desired patterns. These machines contain a microprocessor that allows you store patterns from a card and create the patterns on its own.
The only disadvantage being the pricing, this is the ideal embroidery machine for you, whether for commercial purposes or personal reasons. Some of the common models include Singer CE-200 Quantum Futura, Brother SE270D and Singer Quantum XL-6000.
In conclusion, you should critically analyse whether you want an embroidery sewing machine or embroidery only machine. Ask yourself for what purposes do you need it. Take it to consideration your needs and budget. Also do a thorough market research of what best brand will bring you satisfaction because different models have different features. Then with all that in mind, find a reputable dealer, make an informed purchase and put your embroidery skills into use.